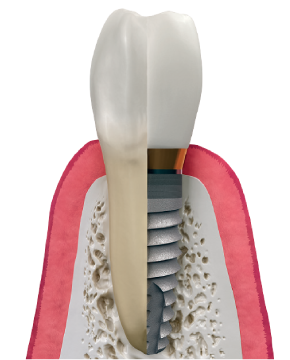 DENTAL IMPLANTS
If you have a missing tooth or teeth, a dental implant may be the long-term solution you need. Omaha Oral Surgery & Council Bluffs Oral Surgery offers dental implants so that you can have a lasting smile! Made of extremely durable titanium, a dental implant acts as a substitute for the root of your natural teeth. In time, your jawbone fuses to the implant through a process called "osseointegration." This process results in a permanent bond between the implant and your jaw, making dental implants more successful than dentures for replacing teeth because they cannot slip or rock the way dentures can. Dental implants also look more natural than dentures because everything except the crown of the replacement tooth remains below the gum line.
Anatomy of a Dental Implant
Step 1: Implant

The implant is placed into the jawbone by your oral surgeon.

Step 2: Abutment

The abutment is placed on top of the implant, by your dentist.

Step 3: Crown

The crown is placed on top of the abutment, by your dentist.
---
What You Should Know About Dental Implants
With the exception of younger children, dental implants are a great option for replacing permanent teeth for just about anyone. If you need to replace a single tooth or multiple teeth, Omaha Oral Surgery has the solution you need. We're confident that you'll love your dental implants and enjoy them for the rest of your life, with proper care.
Patients who choose dental implants over dentures or bridges experience a much higher quality of life, because they don't come with the inconvenience and discomfort of those other options. Dental professionals including those here at Omaha Oral Surgery & Council Bluffs Oral Surgery recommend dental implants because they also do not affect the health of neighboring teeth or lead to bone loss in the jaw the way dentures or bridges can.
---
Dental Implant Facts
There are numerous advantages to choosing dental implant surgery over dentures or bridges, including:
More Comfortable Eating

Dental implants function more like your natural teeth than dentures, which can slide around your mouth. With dental implants, eating your favorite foods is easier and painless.

Durability

With proper care, many dental implants can last for the rest of your life, and their durability means they will last many years regardless.

Easier Speech

Dentures and bridges can become loose in your mouth, making speaking more difficult. With implants, however, you can speak clearly without mumbling or slurring because they always stay in place.

Greater Comfort

Removable dentures can be uncomfortable, but dental implants become part of you, so you'll forget they're even there.

Improved Appearance

Because dental implants fuse permanently to your jaw, they look and feel more like your natural teeth, giving you more confidence when you smile. Dental implants also fit more naturally into your mouth than dentures.

Improved Oral Health

Dental implants don't require the teeth around them to be altered in any way. Meaning, more of your original teeth are left intact. This, in turn, keeps teeth freer of bacteria that can lead to decay.
---
Dental Implant Options for You
A dental implant procedure is a good option for anyone missing one or more teeth. Here are some examples of dental implant options you may receive:
Single-Tooth Implant

When one or more natural teeth have been compromised, a single-tooth implant may be all that's needed.

Implant Bridge

Because they do not compromise the health of surrounding teeth, implant bridges are seen as a better option than traditional bridges.
Implant Overdenture

Because they snap onto the implants and lock into place, these types of dentures are more comfortable and natural-feeling than traditional dentures.

Hybrid Implant Denture

These dentures are fixed in place, and can only be removed by your dentist for regular cleanings.
---
What To Expect
Consultation and Procedure: During the initial consultation, your oral surgeon at Omaha Oral Surgery & Council Bluffs Oral Surgery will take a 3-D scan of your mouth. Next, a treatment plan for the dental implant procedure will be created. If it is determined that your jawbone is strong enough, the consultation, extraction of the existing tooth and implant can be done in a single visit.
Implant Check: After two to four weeks of the procedure, your oral surgeon will check on the implant to ensure it's healing correctly.
Oral Scan: Three to six months after the procedure, your oral surgeon will ask you to come back for a new scan of your mouth. This scan will be used to create the custom crown(s) that will fit perfectly into your mouth and take the place of the extracted tooth or teeth.
Crown Seating: Within a month or so after the second oral scan, the crown(s) should be ready. Your regular dentist will place the crown onto your dental implant.
Procedure Complete: Once your new crown is set, your dental implant procedure is complete. You'll be free to enjoy all of the benefits of your new implant.
---
We're Here to Help
Whether you are in need of replacing one tooth to several or all of your teeth, we have a dental implant solution for you. We are confident you will love your dental implant and with proper care, they will last you a lifetime.
Questions? Give us a call at Omaha: 402.934.8999 or Council Bluffs: 712.309.0480. where our specialists are happy to help you.
Did You Know?
There are many advantages to dental implants, including:
Easier Eating
Durability
Improves speech 
Improved comfort 
Improved appearance
Improved oral health